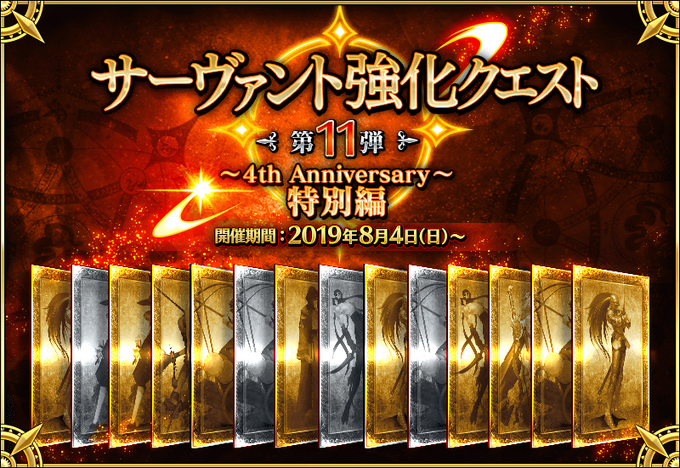 Duration: August 4, 2019 19:00 JST ~
Title : Servant Strengthening Quests Part XI
In conjunction with Fate/Grand Order Fes. 2019 ~4th Anniversary~, there will be 14 servants instead of 7.
2 special quests will appear daily for a total of 7 days. (August 4 - August 10)

Quest will only open in Chaldea Gate if you have the Servant with Max Ascension.
Identity of the Servant for that particular quest will only be revealed on the same day the quest appears.
Quests do not expire.
Clicking on the image will redirect you to each Strengthening Quest page.
Date of Quest Appearance
Servant Class
Rarity
Servant
August 4, 2019 19:00 JST
5★
3★
August 5, 2019 18:00 JST
4★
4★
August 6, 2019 18:00 JST
5★
3★
August 7, 2019 18:00 JST
4★
3★
August 8, 2019 18:00 JST
5★
3★
August 9, 2019 18:00 JST
5★
4★
August 10, 2019 18:00 JST
5★
4★