Quests are Fate/Grand Order's primary gameplay engine. Entering a quest requires AP (Action Points), which regenerates at a rate of 1 every 5 minutes. Quests consisting of 1 or more battles may also include a visual novel style story sequence. After completing every arrow and/or ∞ in a quest mode, you will earn a one-time reward.
The main story of Fate/Grand Order. Main story quests can only be completed once, but visual novel scenes can be replayed from My Room.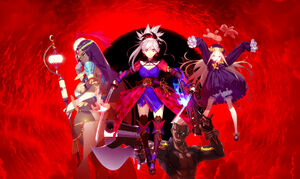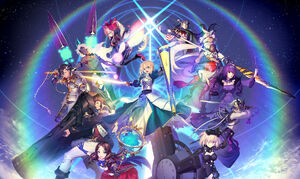 After completing the main quest in a given location, a free quest becomes available at that location. Even if the main quest returns to that location, the free quest will still be available. Free quests are repeatable. Some free quests are unlocked by earning the completion reward at another free quest.
Interludes (幕間の物語, Makuai no Monogatari?) are one-time events that unlock when a Servant you own has reached a specific bond level and ascension. If the interlude takes place outside of Chaldea Gate, you must have completed the story for that location in order to access the interlude. Interludes can only be completed once, but visual novel scenes can be replayed from My Room.
Interludes are found in the quest zones where they take place for all Servants you own, regardless of whether you are eligible for the interlude or not. On the main screen, the number on the zone banner includes all interludes. There is also an Interlude banner within Chaldea Gate that will link to all interludes, locked and unlocked.
Interlude Campaigns
Events are time limited quests, campaigns or celebrations that Masters can participate in. Some of these requires you to clear certain conditions to participate in or to get rewards. (for example: clearing Fuyuki)
Event List a page of the wiki where the latest news or events and updates are posted from new story content, to new servants or to the latest gacha and more. for the english server event list, click here
Former Quests that were added to the Da Vinci's Workshop at a later date.
Challenge Quests
Trial Quests
Community content is available under
CC-BY-SA
unless otherwise noted.