Fate/Grand Order is a mobile application built for iOS and Android operating systems. There are a variety of emulators and methods to play the game on PC, but none of these alternate methods are supported by DELiGHTWORKS Inc. and may not run correctly or at all.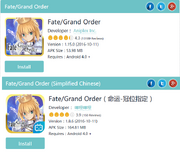 You can download the APK for your Android phone via QooApp or ApkPure. Be careful not to download the Chinese version instead, which has significantly less content.
As of version 1.7.0, the various Android emulators may not support the version of Unity that Fate/Grand Order uses. See this topic for more information.
Refer to this thread for a VMware option: MEmu instructions and discussion
See also: