Current Rate-Up Servants
◆ ◆


Arjuna & Karna Summoning Campaign

Prison Tower Free Access Commemorative Summoning Campaign

Lady Reines Case Files Rerun

7th Fate/Grand Order User Questionnaire

Arc 1 Improvements

All Events ▶
IMPORTANT
Account Security: Keep your account safe! Avoid showing detailed information about your account, bind your account to avoid losing it, and ask for more detailed tips on our Discord server.
Friendly reminder that this game is a fictional work, and has no relation to anything happening in the real world.
Comment & Discussion: Blatant unnecessary posting, spamming, flaming, trolling, and abusive behavior are not allowed in this wiki. Thank you.
Recommended iOS: version 11.0

Minimum RAM: 2GB for both android and iOS
Some models may not be supported even with the recommended version or higher.
| | | |
| --- | --- | --- |
| | 8,292 articles since August 4, 2015 | |
Welcome to the Fate/Grand Order Wiki, the archive for Masters from all over the world.

WARNING: SPOILERS ABOUND! Many pages will likely contain spoilers for the games' lore and the Fate series in general! Proceed at your own risk!

This Wiki provides the latest information for both Japanese and English versions of the Fate/Grand Order mobile game.
If you're interested in helping, feel free to do so anytime, anywhere, if you have any questions or would like to request a page to be unlocked feel free to message Necor or any of the other Mods/Admins.
Special thanks to the following:

Current Server Time
_ 9:00 JST
_ -8:00 PST Mar Sun>=8 2:00 1 PDT Nov Sun>=1 2:00 0 PST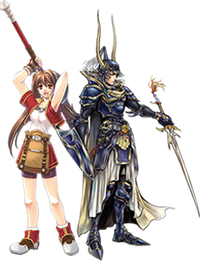 JRPG Games
Want your community included? See how!