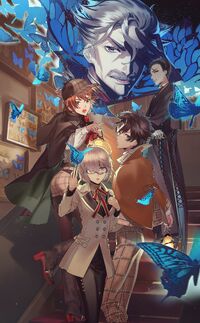 Enigmatic Singularity I : Escape from the Baker Street (謎特異点Ⅰ ベーカー街からの脱出?)
The very first Escape Room event for F/GO features one of the most iconic mystery-solving settings in the history of Earth, the world of Sherlock Holmes. This is not a static Escape Room, but it will be held in 5 different zones for only a limited time, so it is not a permanent escape room like the ones you see commercially these days.
Those who wish to join the escape room are required to purchase the entree ticket online. Players are grouped in a team of 6 members. Every member will choose 1 class (Saber, Archer, Lancer, Rider, Caster & Assassin). Players are limited to 60 minutes to solve the mystery inside the zone and reach the exit.
A Rerun to this collaboration occurred on April 2019 along with it's Rerun Commemoration Campaign.

謎特異点Ⅰ ベーカー街からの脱出 開催記念クエスト
Enigmatic Singularity I : Escape from the Baker Street Commemoration Quest
AP Cost
Bond Points
QP
EXP
Battlefield type
5
165 
(33 per AP)
1900 
(380 per AP)
550 
(110 per AP)
Available NPCS
Lvl 60; NP1 Lvl 50; NP1 Lvl 60; NP1 Lvl 60; NP1 Lvl 60; NP1 Lvl 50; NP1
Arrow 1
Enemies
Battle 1/2
Spellbook
Lvl 8 5,250 HP

Spellbook
Lvl 8 5,250 HP

Spellbook
Lvl 10 12,830 HP
Fatal Battle 2/2
Archer of Shinjuku
Lvl 11 36,135 HP
Notable Drops
Completion
Reward