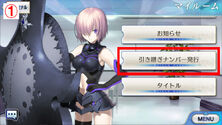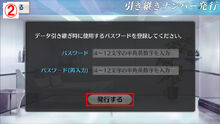 Device Transfer allows you to save game progress and move the account to another device. A transfer code can be issued from My Room.
Tap Device Transfer (引き継ぎナンバー発行) in the My Room menu.
Type in a password to be used when transferring to another device (the second field is for confirmation, so type it in both fields). The password must be 4-12 alphanumeric characters.
A transfer code will be issued, use Copy (コピー) button to copy it into clipboard, click Close (閉じる) button then (the right button, 新規で発行する, is for issuing a new code). The code can either be immediately used to transfer the account to another device or saved for future use.
To use the transfer code, access the game on a new device or new installation of Fate/Grand Order. On the title screen, click the Device Transfer button on the bottom-left (引き継ぎ). Input your transfer code and your password to load your account on the new device or installation.
Notes
A Transfer Code and Password does not expire unless used to transfer to a new device. Your old device will not be able to access the account once transferred. You'll have to create a new Code and Password in your new device in case you wish to transfer back.
Each Code and Password can be only used once; after using your transfer code, you will have to create a new code and password every time you transfer your account. However, you can always create a new code with a new password even if you already have an existing unused code (ex. if you forget the password of one of your codes).
You cannot transfer your account into another F/GO version (ex. NA to JP)
Save your transfer Code and Password aside from your current device.
See Account Recovery (JP players) or Your F/GO version websites for Customer Support for help.