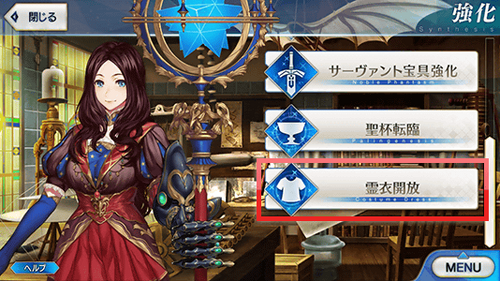 Costume Dress (霊衣開放, Rēi Kaihō?), also known as Costume Change or Spiritual Costume Unlock, is the feature that lets any Servant (Providing that Servant has an alternate outfit unlockable) to switch their outfits, other than the 3 Battle Sprites unlocked from Ascension.
This was introduced since v1.25.0 with Mashu Kyrielight being the first Servant with an alternate outfit. Outfits you have obtained will stay in costume dress inventory until you cleared the conditions needed.
As of v1.33.0 the

icon in the shop and event shops was replaced with a servants' portrait with a smaller costume dress icon to the left.

Alternate outfit/costume can be unlocked after a few conditions are cleared:
Obtaining Costume Unlock Permit (霊衣開放権) by clearing designated quests.

In some events you will have to clear the Final Main Quest for you to buy the costume in the event shops.

Reaching a Level or Ascension Stage (varies among Servants).
---
Costume List