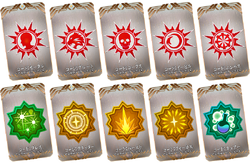 [ Command Code List ] [ Command Code List by ID ]
Command Code (指令紋章, Shirei Monshou?), also known as Command Crest is a new type of Card-Item that is meant to be engraved into any Servant's Command Cards.
When burned in Da Vinci's Workshop, each Command Code will earn you 1 Mana Prism and 100 QP for 1★, 200 QP for 2★, and 500 QP for 3★.
Command Codes were announced on F/GO 3rd Anniversary as part of their 10 Great Campaigns, while its implementation was on July 31,2018 18:00 JST.
How to Engrave?
| | |
| --- | --- |
| | Unlock the Command Card in using a corresponding opener (Buster Code Opener for Buster Cards etc.). |
| | Once unlocked, select the Command Code you want to engrave. |
| | Gain the effects of the Command Code when you use the Command Card. |
To remove/detach the engraved card, the Code Remover must be used. The removed Code can be reused for another card. (The normal price of said Code Removers are 1 Rare Prism each with only three of them available in the Rare Prism shop per month.)

This system was changed on 5 August 2020 Update. There is no need for a Code Remover to remove/detach command codes. Also Code Remover's work is change to back Code Opener in your inventory, and re-lock the command card.

You can also "overwrite" Command Codes of rarity 2★ or lower. In that case, the overwritten Command Code will disappear.
Unlock Cost Table (per Servant)
Rarity
Cost
For 1 Command Card
Cost
For All Command Cards
5★
1,000,000
5,000,000
4★
500,000
2,500,000
3★
300,000
1,500,000
2★
200,000
1,000,000
1★
100,000
500,000
Where to Obtain
The method to obtain this new card-item is similar to Status Up Cards, either through Friend Point Summon or Da Vinci's Workshop, or even through Time-Limited Events or Campaigns.
Effects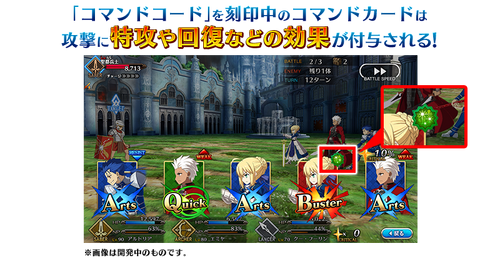 By engraving such card-item into a Command Card, that particular Command Card will gain new effects, such as Heal an Amount of HP upon attacking using that Command Card. This also means that this system treats each Command Card as a distinct card.
Storage expansion history
Card Images