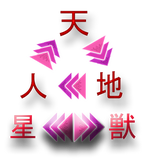 Attributes are a gameplay mechanic in Fate/Grand Order. It works similarly to the Servant class triangle. Each Servant and Enemy has an innate attribute that is both weak to and strong against other attributes. The Attribute relationships are explained from Emiya's Interlude Quest and by Da Vinci during the Story Chapter of London.
Damage Multiplier
Defender ►
Attacker ▼
Man
Earth
Sky
Star
Beast
Man
1.0x

0.9x

1.1x

1.0x
1.0x
Earth

1.1x

1.0x

0.9x

1.0x
1.0x
Sky

0.9x

1.1x

1.0x
1.0x
1.0x
Star
1.0x
1.0x
1.0x
1.0x

1.1x

Beast
1.0x
1.0x
1.0x

1.1x

1.0x
These traits are based on why they are a servant, and as thus, can be guessed following these critera:
Servant Attributes
Enemy Attributes
Note: Certain variations of the same enemy, as for example Knight Enforcer's and Pumpkin Knight's, usually possess the same attributes and therefore are only mentioned if they do possess a trait the OG does not.
Attribute
Enemies
Man
人




Mud Form
Attribute
Enemies
Earth
地




BBB Mud Form