亜種特異点Ⅱ 伝承地底世界 アガルタ アガルタの女
Pseudo Singularity II - Subterranean World of Folklore: Agartha
Set in A.D. 2000.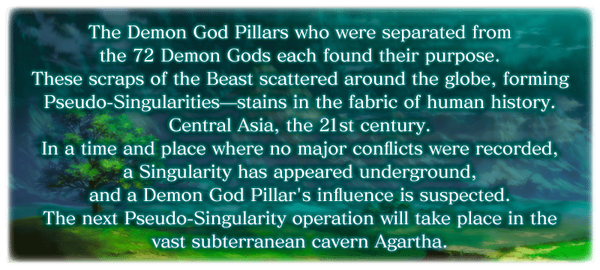 Unlock Requirements: Clear Salomon.
Release Date (JP): June 29, 2017
Release Date (NA): June 21, 2019


Main Story Clear Reward :



---
Episode II: The Woman of Agartha (アガルタの女, Agaruta no Onna

?

)
Keywords include: The Hollow Earth (地底大空洞, Chikyuu Dai-Kuudou

?

, lit. Great Underground Cavern), Hero of Brutal Insanity (暴虐と狂乱の英雄, Bougyaku to Kyouran no Eiyuu

?

), The Brilliant Fortress (煌々たる城塞, Koukou-taru Shousai

?

), Jungle of Gold (黄金の密林, Ougon no Mitsurin

?

), The Fragrance of Peaches (桃の芳香, Tou no Houkou

?

),The War-Cry of the Women Warriors (女戦士たちの雄叫び, Onna-Senshi-tachi no Otakebi

?

), Phantasmal Metropolis (幻影都市, Genei Toshi

?

), The Skies of Void (無空の天, Mukuu no Sora

?

), The Distortion of an Undistorted Wish (歪みなき願いの歪み, Yugami-naki Negai no Yugami

?

)
Community content is available under
CC-BY-SA
unless otherwise noted.